---
---
What is RaceROM MX-5?
It is an upgrade to ProECU MX-5 offering unique RaceROM features only previously available to EcuTek Tuners. Now you have the ability to custom tune your vehicle with all the same fatures EcuTeK Tuners and EcuTeK Master Tuners use for custom tuning. This will include custom mapping (where you can create your own maps), boost control, switchable maps, speed density for high horsepower applications and a whole lot more. 
How Can I Get RaceROM  MX-5?
It is purchased through your EcuTeK Master Tuner, Taylord Tuning 
What Do I Get With RaceROM MX-5?
Purchasing the RaceROM MX-5 upgrade offers owners the following unique features:
- 4 Way Map Switching
- Speed Density
- Per Gear Rev Limiter
- Launch Control
- Autoblip
- Flat Foot Shifting
The Upgrade to RaceROM MX-5 adds the following Advanced and Intermediate maps: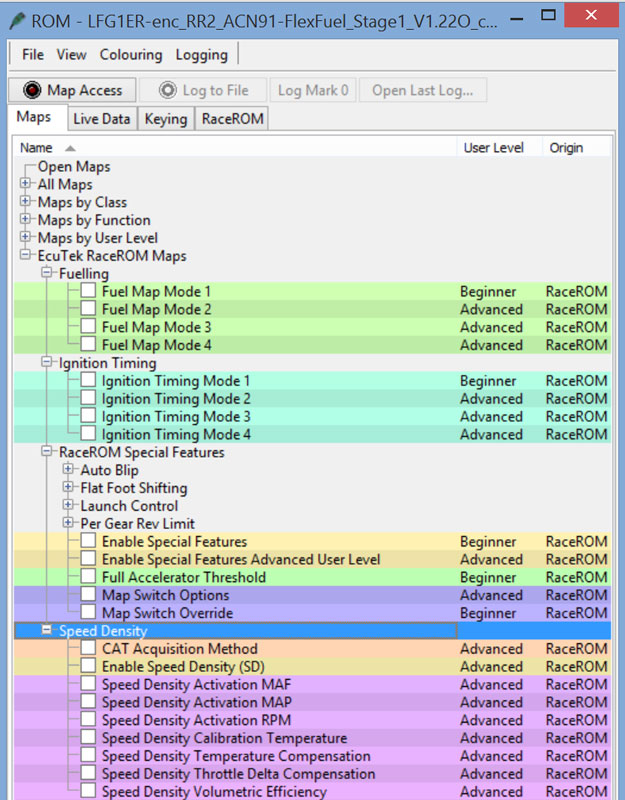 Map Switching
Map switching for the MX-5 provides 4 separate customisable tuning modes, which can be changed on-the-fly by the driver using the cruise control switch.
These modes can be customised to provide bespoke settings such as:
Valet mode - Limits enabled so that the Engine RPM is limited or the torque is limited.
Economy Mode - The car is tuned to provide the best fuel economy but with reduced performance.
Race Mode - High power mode for track use.
Dual Fuel Mode - Settings for different fuel types such as E85 or high quality race fuel.
The map switching also works with other RaceROM features such as Launch Control, Flat-foot Shifting, Throttle Auto-blip or Speed Density. It can also be combined with the RaceROM custom features and functions under certain conditions. 
Speed Density
The Speed Density (SD) feature changes the way the engine load is calculated. When SD mode is activated, the ECU will disregard the MAF sensor reading and will instead calculate mass airflow based on Engine Speed, Manifold Pressure and Air Temperature, this allows the MAF sensor to be removed, and a larger intake may then be fitted if desired.
Speed Density can be toggled in any map switch modes, and a hybrid MAF and Speed Density system can be implemented to aid accurate readings at low speed and provide maximum calibration at high power levels. A range of activation options are available for Engine Speed, Mass Air Flow or Manifold Pressure.
To view the other available RaceROM Features, please use the menu to the right entitled RaceROM Features.
High Horsepower Forced Induction Load Limiter Lift
This RaceROM feature is only available to trade customers, or retail customers that have purchased the optional RaceROM MX-5 upgrade.
The High Horsepower Forced Induction Load Limiter Lift feature allows for high horsepower for vehicles with forced induction (Supercharger or Turbocharger). 
---